FRIED GREEN TOMATOES 10.95
A Southern Favorite, Panko Coated & Fried Golden,
Served with a Horseradish Cream Sauce
BLEU CHIPS 10.95
Our Crunchy, Homemade Potato Chips Topped with Crumbled Bleu Cheese, Bleu Cheese Dressing, Bacon & Purple Onion, Served Warm
GAWGIA CRACKA NACHOS 11.95
Barbecued Smoked Pulled Pork Piled High on Crispy Tortilla Chips
Topped with Cheddar Cheese, Diced Onion,
Pickled Jalapenos & Chopped Dill Pickles
CREAMY BLUE CRAB DIP 11.95
Thick, Creamy & Loaded with Crab! Served Hot with
Our Homemade Potato Chips
Made from Scratch & Fried Golden
Small 5.75 Large 7.50
A Crystal Classic! Thick & Creamy!
Cup 6.50 Bowl 7.50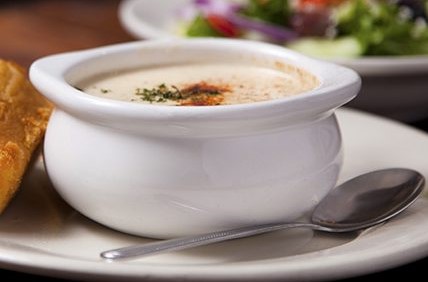 MY MAMA'S GREEK SALAD
Large 13.95 ~ Side Salad 7.50

Mixed Greens, Tomatoes, Cucumbers, Purple Onion, Feta Cheese, Kalamata Olives & Croutons, Tossed in a Classic Greek Vinaigrette
Add Grilled Chicken 4.00 or Grilled Shrimp 6.95
THE OTHER SALAD 13.95
Toasted Almonds, Mandarin Oranges, Pickled Ginger, Dried Cranberries & Fresh Mint Served on a Bed of Mixed Greens, Tossed in a White Balsamic Citrus Vinaigrette
Add Grilled Chicken 4.00 or Grilled Shrimp 6.95
SOUTHERN FRIED CHICKEN SALAD 14.95
Southern Fried Chicken Breast Tenderloins on a Bed of Mixed Greens, Shredded Cheddar an Mozzarella Cheeses with Honey Roasted Peanuts
and Honey Mustard Dressing
Add Grilled Chicken 4.00 or Grilled Shrimp 6.95
ADD A FILET OF FRESH GRILLED OR BLACKENED SALMON TO ANY SALAD
ABOVE for 9.95
CLASSIC CHEF'S SALAD 13.95
Mixed Greens, Fresh Roasted Turkey Breast, Smoked Ham, Mozzarella & Cheddar Cheeses, Grape Tomatoes, Cucumber, Bacon, Purple Onion, Shredded Carrots & Boiled Egg, Served with Your Choice of Dressing

SOUP & SALAD COMBO 11.95
A Bowl of One of Our Delicious Soups Served with a
Small Greek or Crystal Salad and Buttery Cornbread
We Serve Thousand Island, Bleu Cheese, Ranch, Greek, White or Dark Balsamic Vinaigrette, Honey Mustard Dressing and Oil & Vinegar
Want Onion Rings Instead? Add $2.25
CRYSTAL SHRIMP SALAD 14.50

A Crystal Tradition! Plump, Sweet Shrimp,
Made the Old Fashioned Way,
Served on Toast with Lettuce & Tomato
CLASSIC CHICKEN SALAD 12.95
Chunks of White & Dark Meat Chicken, Celery, Onions, Dried Cranberries,
Diced Walnuts and Mayonnaise.
Served on Toast with Lettuce, Tomato & Mayo
Add Your Choice of Cheese 1.00
Smoked Pulled Pork, Pimento Cheese, Tomato, and Chopped Pickles
on Sourdough Bread, Buttered and Grilled
FRIED FLOUNDER REUBEN 15.95
Freshly Fried Flounder Filet Served on Marble Rye Bread
with Creamy Cole Slaw, Swiss Cheese and Thousand Island


FRESH Roasted Turkey Breast, Bacon, Mayo, Lettuce and Tomato on Toast Add Swiss, American or Cheddar Cheese 1.00
A Fresh Filet of Salmon, Grilled or Blackened with Hickory Smoked Bacon, Lettuce, Tomato & Remoulade, Served on Toast
PASTRAMI OR TURKEY REUBEN 13.50
Juicy Pastrami or Our FRESH Turkey Breast, Swiss Cheese,
Sauerkraut & Thousand Island Dressing, Grilled on Rye Bread
Sandwiches Above Served on White,
Whole Wheat or Rye Bread

A Cup of One of our Delicious Soups, Served with Half of a
Shrimp Salad, Chicken Salad, Grilled Cheese or BLT Sandwich
---
Want Onion Rings Instead? Add $2.25
Add .75 Grilled Mushrooms Add 1.00
THE CLASSIC CRYSTAL BURGER* 12.95
Half a Pound of Griddled Ground Chuck with Lettuce, Tomato, Onion, Mayo & Pickle Add Swiss, American, Bleu or Cheddar 1.00
Add Hickory Smoked Bacon 1.00
VEGGIE BURGER 11.95
Made Fresh In-House, Served with Lettuce, Tomato,
Onion & Sweet Red Pepper Remoulade

BISON BURGER* 15.95
Charbroiled Ground American Bison & Beef
with Lettuce, Tomato, Onion, Mayo & Pickle
GREEK LAMB BURGER* 15.95
Charbroiled Ground Lamb & Beef with Homemade Tzatziki Sauce,
Lettuce, Tomato & Onion Add Feta Cheese 1.00
Add Swiss, American, Cheddar, Feta, Provolone, Pepper Jack, Pimento Cheese or Bleu Cheese to Any Sandwich or Burger for $1.00
*CONSUMING RAW OR UNDERCOOKED MEATS, POULTRY, SEAFOOD, SHELLFISH OR EGGS MAY INCREASE YOUR RISK OF FOODBORNE ILLNESS
Six Fresh Breast Tenderloins,
Fried, Grilled or Blackened with Honey Mustard.
As Your Entrée with One Side 10.50
CHICKEN FINGER SANDWICH 13.50
Fried Chicken Tenders with Lettuce, Tomato
And Mayonnaise Served on Your Choice of
Toast or Bun and One Side
*Consuming raw or undercooked meats, poultry, seafood, shellfish, or eggs may increase your risk of foodborne illness
Our Seafood is Lightly Seasoned and Made to Order. Served with Your Choice of Two Sides. Want Onion Rings Instead? Add $2.25
SWEET DOMESTIC SHRIMP 21.95
None Better! Fried, Grilled,
Blackened or Sauteed
FRIED FLOUNDER FILLETS 19.95
Any Two 22.95Any Three 24.95All Four 29.95
BAKED SOUTHERN DEVILED CRAB
Two Stuffed "Shells" 22.95
These Ain't Maryland Style! Blue Crab Claw Meat, Chopped Onions and Peppers with Just Enough Stuff to Hold 'em Together, Served with a Sweet Red Pepper Remoulade Sauce
FRESH SAUTEED VEGGIES 3.50
OLD FASHIONED OCILLA SLAW 2.75
Chopped Green Cabbage with Onion,
Green and Sweet Peppers Marinated in a Tangy Vinaigrette
MMM, ONION RINGS! SM 5.75 LG 7.50

SKIN-ON FRENCH FRIES Sm 3.95 Lg 5.95
SMASHED IDAHO POTATOES 3.75

Made with Real Butter and Heavy Cream
SWEET POTATO FRIES SM 4.95 LG 6.95
Tomato, Celery, Onion, & Green Pepper Seasoned with Bacon Drippings
HAND CUT POTATO CHIPS 2.75
Served with One Side
and Choice of Soft Drink or Tea
---
Grilled American Cheese Sandwich
$6.25 Add Sliced Tomato $1.00
Fried Chicken Fingers
Two Mini Burgers, Served Plain
$8.95
Add Cheese $1.00
All Prepared from Scratch
---
Homemade Oreo Cookie Crust Loaded with Coffee Ice Cream,
Caramel Sauce & Crumbled Oreo Cookies
Topped with Fresh Whipped Cream, Chocolate & Caramel Sauces
GAWGIA PEACH COBBLER 8.95
Served Hot with Vanilla Ice Cream
My Friend, Tia's Famous Recipe, Battered, and Deep Fried.
Served with Vanilla Ice Cream and Your Choice of
Strawberry, Chocolate, or Caramel Sauce
TAKE HOME A PIECE OF HISTORY
---
CRYSTAL PINT GLASS
CRYSTAL SHOT GLASS
CRYSTAL T-SHIRTS & HOODIES
Ask Your Server for Details
ALLERGY MENU
---
*Please inform our staff of your allergy*
We cannot guarantee the prevention of Cross-contact or Cross-contamination, but we will do everything possible to provide with a satisfactory selection
CELIAC MENU
EDIBLE OPTIONS
---
*Please inform your server AND Manager of Celiac Condition
We cannot guarantee the prevention of Cross-contact or Cross-contamination, but we will do everything possible to provide with a satisfactory selection
Please note that all items on this list must be ordered "No Bread." (Referenced www.Celiac.com)
Beers:
Angry Orchard Cider, Rekoderlig Passionfruit Cider
Soups & Salads:
Chili, All Salads (No Croutons, Spinach Tortilla or Fried Meat)
Sandwiches (No Bread):
Turkey Club, BLT (ask about a BLT Salad), Grilled Chicken Veggie Wrap (no Spinach Tortilla), BBQ Pork
Burgers:
Crystal Burger, Bison Burger, Lamb Burger
Chicken & Seafood:
Chicken Tenderloins/Breast (Grilled), Grilled or Sauteed Shrimp, Sauteed Flounder
Sides:
Veggies, Creamy Cole Slaw, Ocilla Slaw, Red Rice
Desserts:
Kids:
Grilled Shrimp, Grilled Chicken
Other:
All Dressings, All Cheeses
CRUSTACEAN/SHELLFISH
---
(You may have everything on the Menu EXCEPT the following):
Creamy Bleu Crab Dip, Crab Stew, Shrimp/Oysters on Salads, Crystal Shrimp Salad, Crab Burger (Fridays), Fried Oyster or Shrimp Sandwich, Sweet Domestic Shrimp, Select Fried Gulf Oysters, Baked Southern Deviled Crab, Mussels Diablo
FISH
---
(You may have everything on the Menu EXCEPT the following):
Fish of the Day, Crab Dip (Worcestershire Sauce), Caesar Dressing (anchovies), Fried Flounder Reuben, Meatloaf Burger (Worcestershire Sauce), Fried Flounder Filets (Worcestershire Sauce), Hamburger Steak (Worcestershire Sauce)
EGG
---
(You may have everything on the Menu EXCEPT the following):
**Our Burger Buns are Egg-Free**
Fried Green Tomatoes, Fried Stuffed 'Shrooms, Bleu Cheese Dressing, Pimento Cheese, Caesar, 1000 Island, Ranch, Honey Mustard Dressing, Tartar Sauce, Mayonnaise (Including Sriracha Mayo), Greek Taco, Creamy Coleslaw, Red Pepper Remoulade, Meatloaf Burger (sub a Crystal Burger Patty), Brown Ale Burger, Deviled Crab, Crab Burger, Meatballs, Fried Pound Cake, Peach Cobbler, Chicken Salad, Shrimp Salad, Pimento Cheese, Fried Pound Cake
PEANUTS
---
(You may have everything on the Menu EXCEPT the following):
Southern Fried Chicken Salad (ask for no peanuts)
"We cannot guarantee that food allergens will not be transferred through accidental cross-contact."
Angry Orchard Cider
All Wine
(please see list as it changes regularly)
Brandy, Campari, Kahlua, Sambuca
Gins:
Beefeater, Bombay, Bombay Sapphire, Boodle's, Seagram's, Tanqueray
Rums:
Captain Morgan, Mount Gay, Meyers Dark Rum
Tequilas:
Cuervo, Cuervo 1800, Don Julio, Patron
Vodkas:
Bourbons/Whiskeys/Scotch:
Bulleit, Jefferson's, Buffalo Trace, Jim Beam, Knob Creek, Maker's Mark, Crown Royal, Jack Daniels, Bushmill's, Jameson, Johnny Walker, Glenfiddich, Glenlivet, McCallan, Lagavulin
GLUTEN/WHEAT Free:
We have One dedicated Fryer for Gluten Free)
Appetizers:
Bleu Chips, Gawgia Cracka Nachos, Grilled Chicken Tenderloins, Sweet Chili Duck Wings
Soup & Salads:
Chili, All Salads (No Croutons or Fried Meat), check with server about soup of the day Other: All Dressings, All Cheeses
Sandwiches:
Turkey Club (No bread), BLT (no bread, ask for as a salad), Grilled Chicken Veggie Wrap (no wrap), Grilled Cordon Bleu (no bread), Greek Taco (no pita), BBQ Pork (no bread), Shrimp Salad (no bread, can make salad), Chicken Salad (no bread, can make salad), Grilled Salmon BLT (no bread), Pimento Pig Sandwich (no bread)
Burgers:
Crystal Burger (no bread), Spicy Guac Burger (no bread), N.O.G.S. Burger (no bread), Big Bleu Burger (no bread), Bison Burger (no bread), Lamb Burger (no bread)
Entrees:
Grilled or Sauteed Shrimp, Sauteed Flounder, Grilled Rack of Lamb, Shrimp & Grits
Sides:
Veggies, Potato Chips, Tortilla Chips, Creamy Cole Slaw, Ocilla Slaw, Red Rice, White Rice, Skin-On Fries, Sweet Potato Fries, Smashed Potatoes (no gravy), Grits
Kids
Kids Grilled Shrimp, Kids Grilled Chicken, kids Hamburgers (no bread), Kids Cheeseburgers (no bread), Kids Hot Dogs (no bun)
Desserts:
Root Beer Float, Vanilla Ice Cream
Beer:
Angry Orchard Cider, Rekorderlig Passionfruit Cider (See drink list for Specialty Drinks and Wines)
Entrees:
Grilled or Sautéed Shrimp, Sautéed Flounder, Grilled Rack of Lamb
Sides:
Veggies, Tortilla Chips, Creamy Cole Slaw, Ocilla Slaw, Red Rice, Hand-Cut Fries, Sweet Potato Fries
Kids:
Kids Grilled Chicken, kids Hamburgers (no bread), Kids Cheeseburgers (no bread)
Desserts:
Alcohol:
Angry Orchard Cider, All Wine (please see list as it changes regularly) Champagne, Prosecco, Brandy, Campari, Kahlua, Sambuca
Gins:
Beefeater, Bombay, Bombay Sapphire, Boodle's, Seagram's, Tanqueray, Rums: Captain Morgan, Mount Gay, Meyers Dark Rum
Tequilas:
Cuervo, Cuervo 1800, Don Julio, Patron
Vodkas:
Bourbons/Whiskeys/Scotch:
Bulleit, Jefferson's, Buffalo Trace, Jim Beam, Knob Creek, Maker's Mark, Crown Royal, Jack Daniels, Bushmill's, Jameson, Johnny Walker, Glenfiddich, Glenlivit, McCallan, Lagavulin
SOY FREE:
---
(We use butter/butter alternative on our bread & Sautéed Food. Our Fryer Oil is Vegetable/Soybean)
Appetizers:
Soup & Salad:
All Salads (no croutons, oil & vinegar, Orange Balsamic dressing, or Tzatziki Sauce), Crab Stew, Chili, Chicken & Sausage Gumbo, ask your server about the Soup of the Day
Sandwiches:
BLT (no bread/mayo), Double Decker Club (no bread/mayo), Grilled Chicken Cordon Bleu (no bread/mayo), Blackened Chicken Veggie Wrap (no balsamic), Greek Taco (no pita), Pimento Pig (no pimento cheese or bread), Grilled Salmon BLT (no bread/sauce), Grilled Shrimp Sandwich (no bread/tartar), Pastrami/Turkey Reuben (No Bread/1000)
Burgers:
Crystal Burger (no bread/mayo), Bison Burger (no bread/mayo), Greek Lamb Burger (no bread), Au Poivre Burger (no bread), NOGS Burger (no bread/mayo), Big Bleu Burger (no Blue Cheese Dressing/Bread/ Horseradish Cream), Guac Burger (no Sriracha Mayo)
Entrees:
Grilled Chicken Tenderloins (Blackened, not sauteed), Grilled Shrimp, Crystal Hamburger Steak, Grilled Rack of Lamb
Kids:
Kids Grilled Shrimp, Kids Grilled Chicken, Kids Burgers (no bread), Kids Hot Dogs (no Bread)
Sides:
Steamed Veggies (NO oil/butter), Smashed Potatoes (verify with kitchen, no gravy), Savannah Red Rice, Grits, White Rice
Desserts:
Root Beer Float, Tia's Fried Pound Cake (NOT battered or fried, Just Toasted is delicious), Vanilla Ice Cream, Peach Cobbler (yes, the topping is good too!)
Other:
Tzatziki Sauce, All Cheese (except American), All Pasta Noodles, Spinach Wrap (use for bread), Hoagie Roll (as long as it is Duck Deli brand)
TREE NUTS
---
(You may have everything on the Menu EXCEPT the following):
The Other Salad (ask for no Almonds), Baby Spinach Salad (ask for no Walnuts), Fried Pound Cake